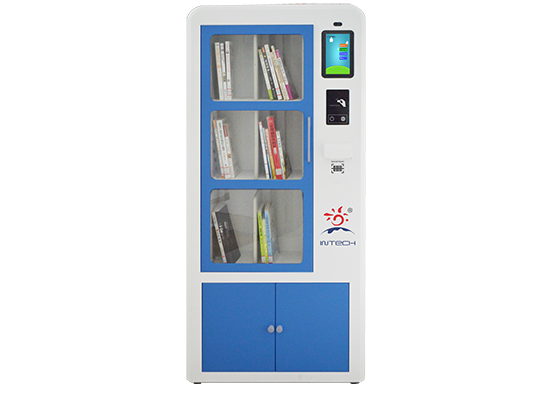 RFID technology on library management system
RFID stands for radio frequency identification, which pioneers its territory in contemporary library until 2000, by integrating itself into library management system. It has proved to be an effective, secure and convenient technology in library functionalities like self service, inventory management, theft detection, maintain the privacy of library users, etc.

A comprehensive RFID system usually contains three parts: RFID tag, reader and a server. The unique information programmed on the microchip in RFID tag affixed into the library items can be read through radio frequency technology (also called reader) at a certain distance and then sent to the server. At this time, the server communicates with the library management system once the RFID system has been interfaced with it.
Features
Installed in any locations: community centers, medical facilities, schools, any library branches

Patron ID type: Mifare, barcode, facial recognition, RFID for user ID

Connection to ILS/LMS via SIP2, self check in and checkout 24/7, offline supported

Keep materials circulating: as soon as items hit the shelf they are checked in, security is reactivated and they are available for checkout

Reading statistic management: ranking for readers and books; book sourcing management

Integrated with traditional book drop for donation

Low maintenance, device fault reporting automatically
Specifications
Model

WT02-01A

 

 

General

  Item Identification

  RFID

  RFID Standards

  ISO15693, ISO18000-3

  Patron card type

  Barcode, RFID, Mifare, ID

  Pin Code Entry

  touch screen

 

 

 Compatibility and Programs

  Operating System

  Android

  Network

  TCP / IP

  LMS

  SPI2

 
 Connections

  RS232 (HF IFD), RS232/USB (card  reader), LAN & WIFI & Bluetooth (main    frame)

 

 

 

 

 

 

 

Mechanical Info

  Capacity

  84 books

  Frequency

  13.56MHz

  Input Voltage

  220 V; 50/60 Hz

  Power Consumption

  ≤20 W

  Relative Humidity

  20%~70%

  Operating Temperature

  -10℃~+50℃

  Storage Temperature

- 20℃~+60℃

  Materials

  sheet metal, reinforced glass, acrylic

  Screen Size

  7'' capacitive touch screen, 5 touch    points

  Dimensions

  672*1513*334 mm