INTECH achieved great success at Bett Brasil & Educar 2015 which took place from May 20 to May 23, 2015 at Sao Paulo Expo Exhibition & Convention Center, Brazil. As one of the most influential education events, the focus of Bett Brasil 2015 is to improve education in the classroom, promoting the potential of education technology to both public and private education institutions at all levels of learning.

The products on display at
Stand #306A
from INTECH mainly consisted of Interactive Whiteboards which are in support of 10 users writing on the board simultaneously and Interactive Projector Device. Many visitors showed great interest in our products and raised a lot of questions in relation to their operation as well as functions. They spoke highly of our products and the excellent services delivered by our staff.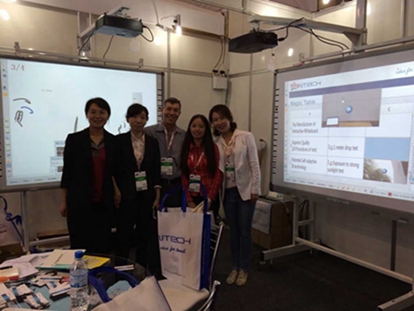 Thanks to the exhibition, some of the visitors have placed trial orders with us. Look forward to receiving more positive feedback from them.
Previous:Welcome to SABC Education African EduWeek 2015
Next:Growth of the Global Interactive Whiteboard Market: Statistics and Analysis