INTECH SR series Infrared Interactive Whiteboard (SR-8083) successfully passed the test by China National Computer Products Quality Supervising Test Center (NCTC) after several weeks of strict testing.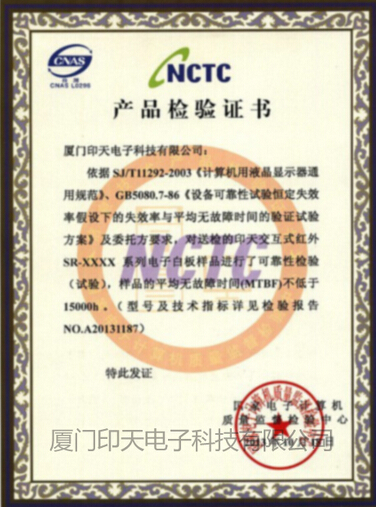 According to the test results, the MTBF (Mean Time Between Failures) of SR is not less than 15000h, which directly demonstrates the excellent quality of SR series products.
Test Basis:
SJ/T11292-2003 "General specification for computer for liquid crystal display device"
GB 5080.7-86 " Equipment reliability testing compliance test plans for failure rate and mean time between failures assuming constant failure rate "
Previous:"Topping Off" Ceremony Held Successfully for INTECH Industrial Zone