Spring Festival is one of the most important traditional festivals for Chinese.It is time for us to get the whole family together, celebrating the new coming year. 2014 Spring Festival falls on Jan. 31st.We can enjoy a 7-day public holiday in China for the Spring Festival.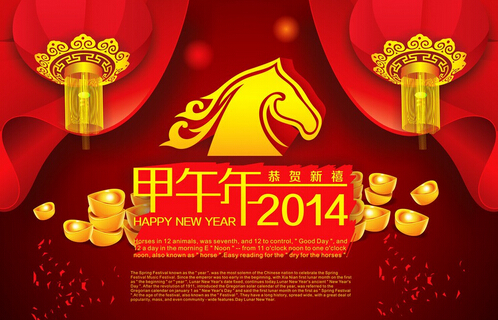 The Origin of Chinese New Year
In accordance with the established practice,one month prior to the New Year's Day, people begin to buy food, clothes and decorations for their houses. Most people living away from home are back home. The time becomes the business time for transportation, which is crazy and will last for about half a month.


During the Spring Festival, people use red lantern and Spring Festival couplets to decorate their houses. People wear new clothes and visit friends and relatives. For Family, on Spring Festival' eve, they get together to have a big dinner,for example, eating dumplings, fish, meat and other delicious food. Children are looking forward to receiving red envelope money.They play the fire works with happiness. When you are walking on the street, you will find dragon and lion carnival activities. Every year CCTV will report this grand Spring Festival gala.


On this festival, when people meet their neighbors or friends, they'll say:"Happy New Year". The New Year celebrating activities will last for about half a month, beginning on the last day of the lunar year, and ending on the 15th day of the lunar New Year, which is known as the Lantern Festival.

All stuff from
INTECH
wish
you and your family
success
and
happiness
in the New Year!


Previous:INTECH to Attend GESS 2014
Next:Happy New Year