Home
> Products > Infrared Interactive Whiteboard- 5 Users(MR)
Technology Principle of Infrared Interactive Whiteboard (5 Users)
Using infrared technology
        It supports more than 5 points touch simultaneously and is different from RE and TRE series, with no light interference. Compatible with 
any projectors.
Patented self-adaptive infrared technology 
Anti-light interference technology
        When the sunlight is strong and straightly projected on the Interactive Whiteboard, the infrared ray in the sunlight might interfere with 
the regular work of Interactive Whiteboard. We add an algorithm to recognize and exclude the interference by the infrared ray in the sunlight, 
which ensures our infrared Interactive Whiteboard can still work perfectly even under strong sunlight.
Patented self adaptive hardware and firmware technology
Matrix Scanning + Fan-shaped scanning type

Features
Plug-and-play for windows system
Modular structure design, easy to assemble and maintain
Wireless module optional for data transmission
Patented synchronizing multi-scanning technologies, true multi point writing
5 points touch 

(different users at the same time) 

Unique trapezoidal correction algorithm to ensure high precision
Front and back surface with metal material to reduce deformation of the board
Galvanized steel panel at back, excellent in anti-electromagnetic interference
Metal projection panel with anti-deformation, anti-scratch and anti-glare performances
Operational amplifier which is more fast and stable compared with the triode amplifier that other suppliers are using
We are wholesaler of interactive whiteboard from China INTECH,with sincerely invite customer come together to build long-term businesses.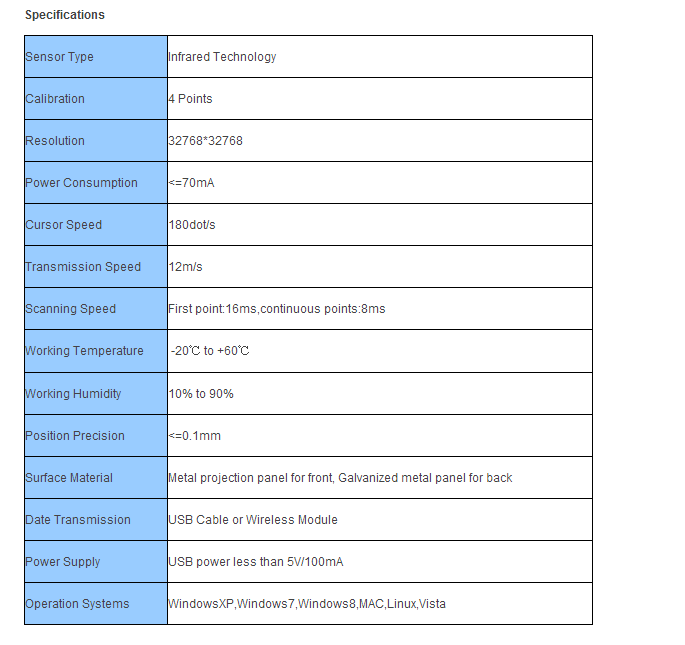 Structure