Future Market Insights has announced its addition of the report of Global Interactive Whiteboard Market for years 2015-2025 to their offering.
Based on the compilation of firsthand information, along with qualitative & quantitative assessments made by the industry analysts, with inputs from experts and participants in the industry, the report provides profound analyses of the following aspects: (1). Parent market trends; (2). Macro-economic indicators & governing factors ; (3). Market attractiveness based on segments. It also maps the qualitative impact that various market factors exert on the market segments & geographies.
Mounted to either the floor stand or on a wall, and used to project the images stored in a computer through a digital projector, the
interactive whiteboard
can be operated with the help of a pen, stylus, or finger.
Click here
to learn more.
Now let us take a look at the main topics covered in this report.
Interactive Whiteboard Market: Segmentation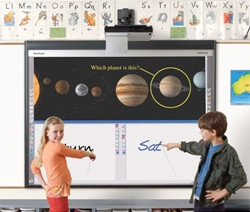 The Global Interactive Whiteboard market is segmented based on technology and application. The former can be further segmented into Electromagnetic Whiteboard, Infrared Optical Whiteboard, Laser Scanner Whiteboard and others, while the latter can be divided into the Education Sector, the Corporate Sector and the Government Sector, with the Education Sector taking a dominant position. Interactive whiteboards are also enjoying growing popularity in both the corporate and government sectors. It is forcasted that the corporate sector will become a lucrative market for the growth of interactive whiteboards and
occupy
a larger market share.
Interactive Whiteboard Market: Region Wise Outlook
The Interactive Whiteboard Market can be segmented into Western Europe, Eastern Europe, North America, Latin America, Asia Pacific with Japan excluded, Japan, Middle East and Africa on the basis of region. North America and Europe take a leading position in the market in terms of the high usage rate, while China and India markets are expected to grow rapidly during the forecasted years from 2015 to 2025.
Interactive Whiteboard Market: Drivers & Restraints
Increase in the funds that the government allocates to the education sector, growing importance of E-learning and virtual learning, and growth in the adoption of technology by various sectors contribute to the global popularity and growth of interactive whiteboards. However, the emerging tablet market, high implementation cost and lack of awareness impede the market growth to a certain extent.
Visit Future Market Insights to get access to the full report.



Previous:China IWB Market in Q3 2015
Next:Global Interactive Whiteboard (IWB) Market from Years 2015-2019