We live in an era where interactive displays have become commonplace in a workplace, classroom, or public environment. There are many more options for interactive products with different advancing technologies, so how to pick the best interactive displays for your needs?
1. Here are the main interactive display technologies that might be helpful to make your purchasing decision:
Technologies

Principle

Pros

Cons

Infrared IWB Matrix scan by infrared rays that sending and receiving by LED tubes that converged all around the board
mature technology that has been widely used; multi-touch points; accurate, fast response with low power consumption and long service life It can be interfered by other objects that touch the board, causing mistaken operation; and affected by sunlight if there's no anti-light technology.
Capacitive IWB Capacitive film inside to sense the electrostatic on human body, similar technology with touch phones or pads
accurate, fast response with low power consumption and long service life; no touch height, no interference by other objects therefore no mistaken operationmore expensive compare to other IWBs



All-In-One IWBCompared with smartboard, it's an all-in-one packed solution combined with iwb, speakers, visualizer, computer and central control system.more security; easy to control and operate on it

much more expensive on cost and maintenance


Interactive Flat PanelA giant tablet with built-in Android system to present or collaborate efficiently

truly interactive touch screen; HD resolution for supreme image quality, enhanced connectivity for file sharing; compatible with more Apps; easy to installfairly costly



2. What Is the Using Scenario?
For schools or training centers, they may care more about the interaction and collaboration regarding the multi-touch feature and easy-to-use functionality.

INTECH All-In-One IWB

will be a great option as it comes with integrated IR smartboard, speakers, visualizer, computer and central control system to enable more engagement.
Or 10 points touch INTECH Capacitive Whiteboard supporting up to 10 users writing simultaneously is another choice combining with built-in speakers, sleek design and excellent touch experience.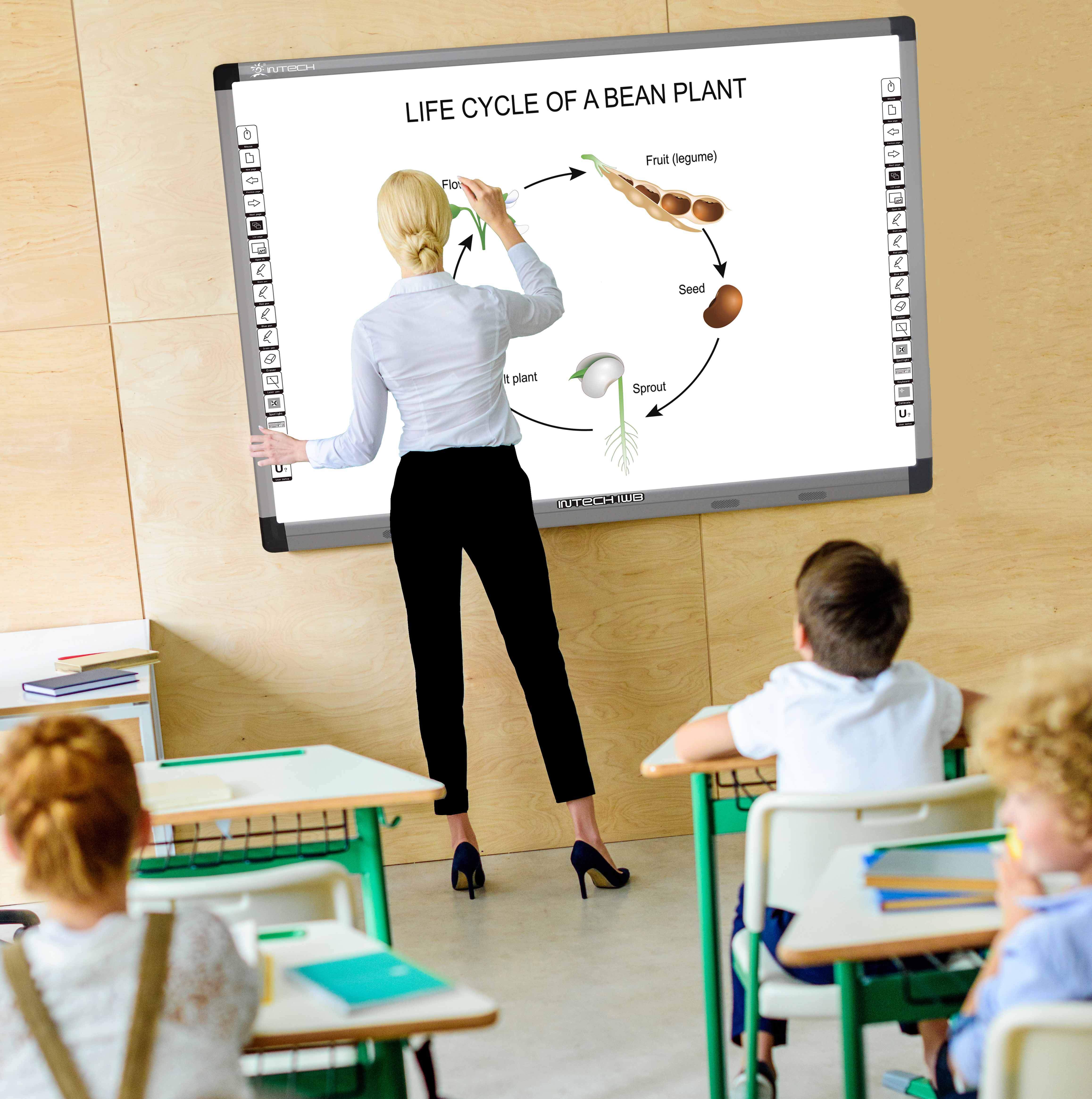 For price sensitive clients, 10 touch points INTECH IR Smartboard is a very budget friendly solution coupled with the embedded whiteboard software that includes a wide set of easy-to-use creative tools without needing additional training.
Companies often use it for presentation and video conferencing. They might prefer a professional tool featuring all-in-one convenience and super image clarity. INTECH Interactive Flat Panel can satisfy their needs.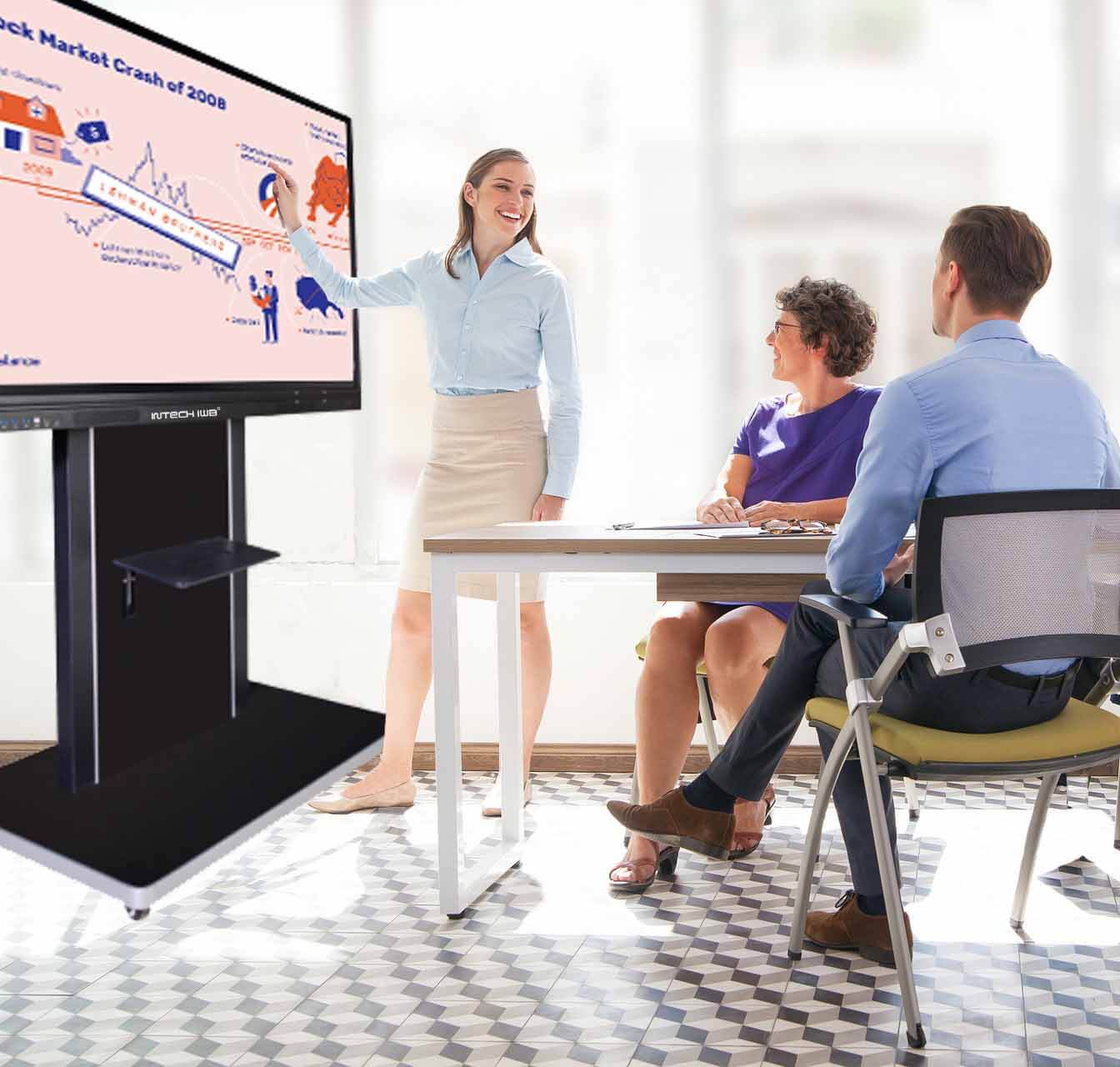 Government and military often have higher requirements on security and stable performance. First recommended high-end interactive displays with mature technology to them, such as Interactive Flat Panel or Capacitive IWB.
3. How Large Screen You Need?
With a variety of sizes available, the interactive display market is often best served by a screen sized between 65 inches to 85 inches. However, it is worth noting where your display is going to be installed and how many people will use it. You need to follow a basic rule that the screen is large enough for those people at the back of the room to read clearly.
Previous:Intech's Spring Festival Holiday Schedule