In order to help teachers create effective lessons and enable students to develop essential skills, INTECH has upgraded its
interactive whiteboard software
—INTECH IWB V5.0 and released recently.
1. Brand New Intuitive Interface
We give INTECH IWB V5.0 the familiar intuitive interface for easy teaching and learning, so everyone can quickly get acquainted with it either a novice or an expert interactive whiteboard user. Compared with the previous software versions, the V5.0 software comes with beautiful icons, reasonable layout as well as abundant tools and resources. All basic whiteboard functions are available in the intuitive interface by touch the fingers or use the stylus without any hassle and frustration. INTECH IWB V5.0 with a new intuitive interactive interface is crucial in today's classroom for pursuing extraordinarily effective and fun teaching and learning environment.


2. Elastic Floating Toolbar
By default, the floating toolbar of INTECH IWB V5.0 always appears on the up right corner of the screen when users start the software. However, users can press the center of the floating toolbar and drag it to move around. It is so handy and versatile because it possesses a collection of tools that is frequently-used for easy access. Besides, users can extend the floating toolbar to customize it by tab the toolbox button, and then you can choose as many as you need to change the frequently-used tools. There is a third option to showcase the floating toolbar. The minimize design is sometimes preferred by users because it doesn't take up more space.



3. IntechSharing for Wireless Sharing Solution
IntechSharing is one of the INTECH IWB V5.0 functions designed to enliven the class and help teachers build efficient lessons. It is such a wireless sharing solution to mirror the screen of other devices such as mobile phone, tablet, etc., onto the whiteboard screen without any apps or cables. Teachers can get instant access to IntechSharing via scanning QR code, and then do many things as below, showcase the PPT, cast living class video, upload file, sync screen and so on. Not only does it allow teachers to roam around the classroom freely, but also attract student's attention on the screen.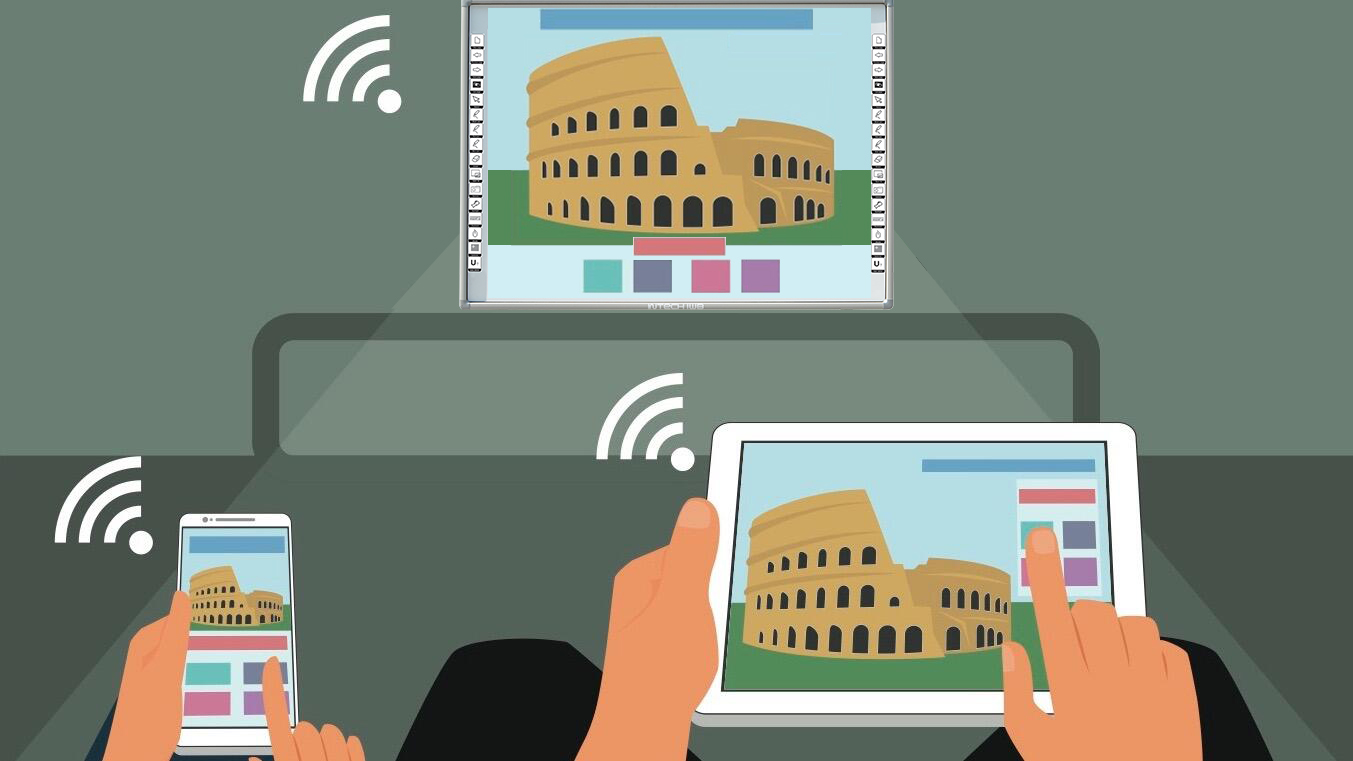 4.
Split Screen with a High Level of Engagement
INTECH IWB V5.0 offers split screen function that is perfect for group collaboration scenarios like brainstorm, exchanging information, etc. It supports to set split screens up to 10. In other words, it allows multiple users to share their spontaneous ideas or take notes on the separate display areas simultaneously, which contributes to creating a high level of engagement and participation in the class. Split screen is also very useful when teachers need various students to do exercise on the whiteboard. In that case, students can finish their own tasks at the same time and save their performance respectively.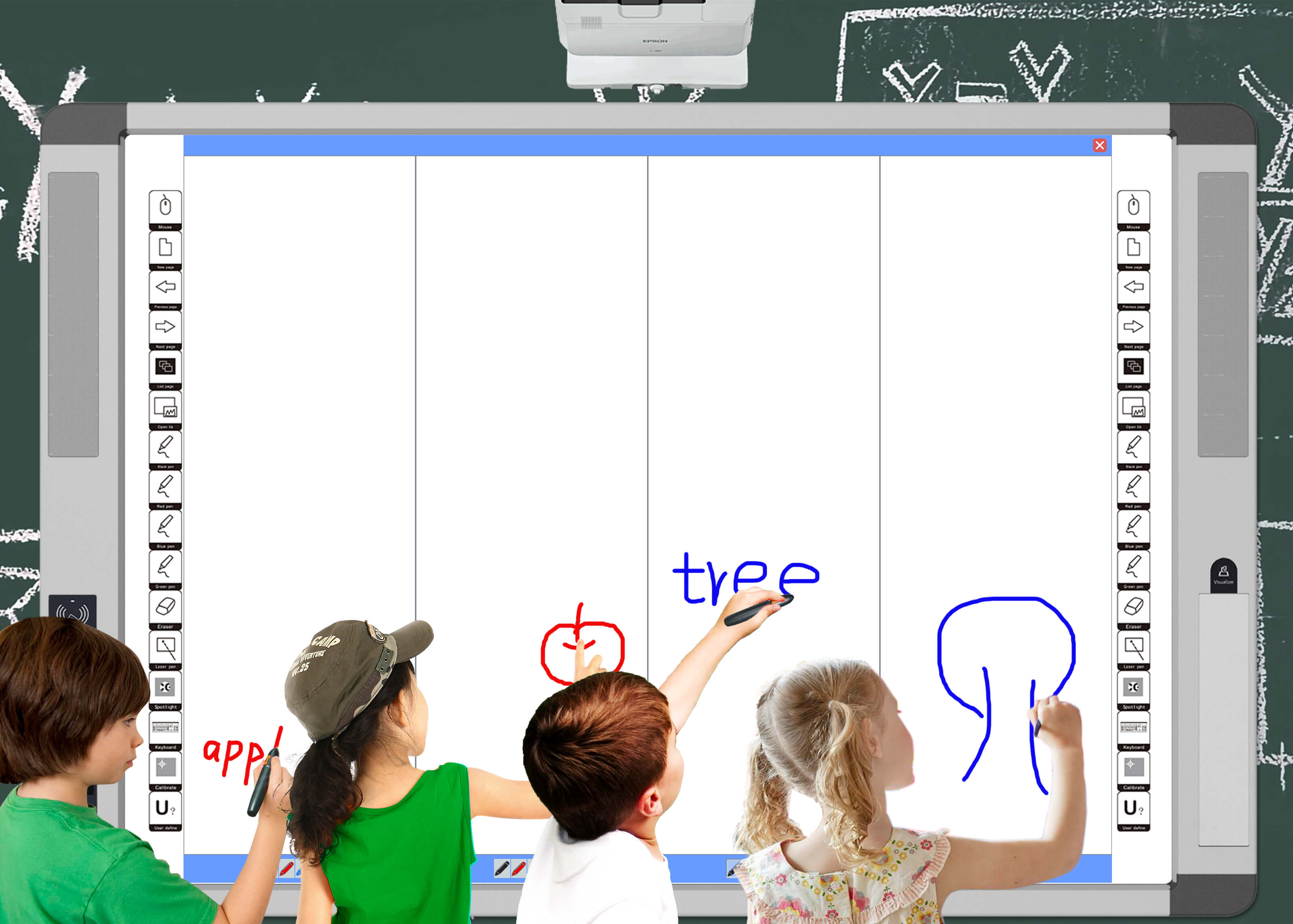 5. Cloud Storage Integration for File Sharing
INTECH IWB V5.0 integrates with a wealth of cloud sharing tools like Google Drive, OneDrive, Dropbox and WeTransfer. They can hold everything from rough draft, clear image, big video, or even unfinished code. INTECH IWB V5.0 doesn't require any external APPs installation and can directly connect these cloud platforms to upload and download files easily and modify these materials in the next time. It is so affectionately that teachers no longer copy their files to a disk and give it to the recipient, but start class directly with integrated cloud sharing.



INTECH IWB V5.0 is the best choice of the interactive whiteboard software market, which is extremely useful for education and office. If you are interested in our whiteboard software, please feel free to contact us to have a try.
Previous:Intech 24-hour Self-service Library